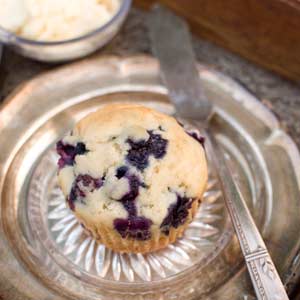 Blueberry Muffins
INGREDIENTS&nbsp
2 cups flour
1 tbsp. baking powder
1 tsp. salt
1/2 cup sugar
Zest of 1 lemon
1/2 cup shortening
1 egg, beaten
1 cup milk
1 tsp vanilla extract
2 cups blueberries
DIRECTIONS&nbsp
Preheat the oven to 425 degrees F. Lightly grease muffin tins for 18 muffins.
In a large bowl, mix together the flour, baking powder, salt, and sugar. Cut in the shortening using two knives or a pastry blender. In small bowll, beat egg, then mix in milk and vanilla.
Fold the liquid mixture into the flour mixture until just blended. Carefully fold in the blueberries.
Scoop the batter by the heaping 1/4-cupful into the prepared muffin pans. Bake in pre-heated 425 degrre oven for 20 minutes.
Remove the muffins from the oven, loosen their edges from the pan, and after about 5 minutes transfer them to a rack to cool.