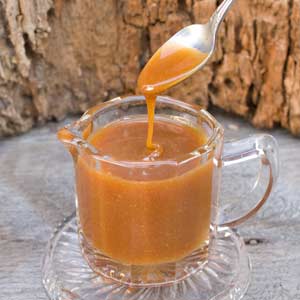 Easy Salted Caramel Sauce
INGREDIENTS&nbsp
3/4 cup heavy cream
1 cup granulated sugar
1/2 tsp. flaky sea salt
DIRECTIONS&nbsp
Set the cream out in advance to allow it to come up to room temperature. (Or heat up in a microwave safe bowl for 30 second intervals until it is at room temperature, about a minute or so.) Set aside.
Put 2 tablespoons of the sugar in a heavy non-reactive saucepan and set over medium heat. Watch closely as the sugar melts around the edges and starts to turn a beautiful amber color. Stir the sugar with a heat resistant spoon, then add another 2 tablespoons sugar and cook it in the same way. Continue to add the rest of the sugar, 2 tablespoons at a time, waiting for it to be completely melted each time before adding more and stirrng frequently as it melts and the color deepens. Do not walk away even fot a second—the sugar can go from golden caramel to burnt in a flash.
When the caramel is a deep mahogany color. remove the pan from the heat and immedateIy, but slowly, pour in the cream (If the cream is cold the caramel will seize up and you may get some lumps of hardened caramel. If this happens, just return the pan to the stove and stir over low heat until the caramel is completely melted and smooth.) Stir in the sea salt and let cool.